Friday, June 14, 2013
"
eastward, perhaps, / suddenly there, Vesuvius, / looming across the bright bland bay // like a massive family pudding
"
Auden, "Ischia"
Sunday, February 10, 2013
"
Fanny Assingham had at this moment the sense as of a large heaped dish presented to her intelligence and inviting it to a feast — so thick were the notes of intention in this remarkable speech. But she also felt that to plunge at random, to help herself too freely, would — apart from there not being at such a moment time for it — tend to jostle the ministering hand, confound the array and, more vulgarly speaking, make a mess. She picked out after consideration a solitary plum.
"
James, The Golden Bowl, p. 222;
p 320: "He held her a minute longer — there was another plum in the pie."
p 344: "They had taken too much for granted that their life together required, as people in London said, a special 'form' — which was very well so long as the form was kept only for the outside world and was made no more of among themselves than the pretty mould of an iced pudding, or something of that sort, into which, to help yourself, you didn't hesitate to break with the spoon."
Monday, January 21, 2013
"
She has a notebook on which she writes the percentages of the food he has consumed. A third of the overcooked watery string beans, half the pale oval of tasteless veal, scarcely a leaf of the coarse green salad drowned in an orange grease, a bite of the tapioca pudding, whose wobbly texture in his mouth made him shudder. "For breakfast," she reads from her clipboard, "pieces pineapple, cream of wheat, whole-wheat toast, coffee decaf."
"
Updike, Rabbit at Rest
Thursday, January 17, 2013
"
The mouthful of pudding now touched my palate, and touched it with a mouldy, briny taste.
"
Melville
It had a yellowish crust all round it
"You see what we have," said Coulter—"salt pork, rye-bread, and pudding. Let me help you. I got this pork of the Squire; some of his last year's pork, which he let me have on account. It isn't quite as sweet as this year's would be ; but I find it hearty enough to work on, and that's all I eat for. Only let the rheumatiz and other sicknesses keep clear of me, and I ask no flavors or favors from any. But you don't eat of the pork!"
"I see," said the wife, gently and gravely, "that the gentleman knows the difference between this year's and last year's pork. But perhaps he will like the pudding."
I summoned up all my self-control, and smilingly assented to the proposition of the pudding, without by my looks casting any reflections upon the pork. But, to tell the truth, it was quite impossible for me (not being ravenous, but only a little hungry at that time) to eat of the latter. It had a yellowish crust all round it, and was rather rankish, I thought, to the taste.
—Melville, "Poor Man's Pudding"
Monday, December 24, 2012
"
He was a cheerful, heavy man with a round face that looked exactly like a pudding. Everyone was glad to see him, as one is glad to see, at the end of a meal, the appearance of a bland, fragrant, and nourishing dish made of fresh eggs, nutmeg, and country cream.
"
John Cheever, "Just Tell Me Who It Was"
Friday, May 25, 2012
Tuesday, May 22, 2012
"Will not the string be very indigestible, Anna Maria?"
[Tom Kitten has climbed up the chimney and into the attic; meets rats.]
All in a minute she rushed upon Tom Kitten, and before he knew what was happening —
   His coat was pulled off, and he was rolled up in a bundle, and tied with string in very hard knots.

   Anna Maria did the tying. The old rat watched her and took snuff. When she had finished, they both sat staring at him with their mouths open.

   "Anna Maria," said the old man rat (whose name was Samuel Whiskers), — "Anna Maria, make me a kitten dumpling roly-poly pudding for my dinner."

   "It requires dough and a pat of butter, and a rolling-pin," said Anna Maria, considering Tom Kitten with her head on one side.
  "No," said Samuel Whiskers, "make it properly, Anna Maria, with breadcrumbs."
  "Nonsense! Butter and dough," replied Anna Maria.
[ … ]  Presently the rats came back and set to work to make him into a dumpling. First they smeared him with butter, and then they rolled him in the dough.

   "Will not the string be very indigestible, Anna Maria?" inquired Samuel Whiskers.

   Anna Maria said she thought that it was of no consequence; but she wished that Tom Kitten would hold his head still, as it disarranged the pastry. She laid hold of his ears.

  Tom Kitten bit and spat, and mewed and wriggled; and the rolling-pin went roly-
poly, roly; roly, poly, roly. The rats each held an end.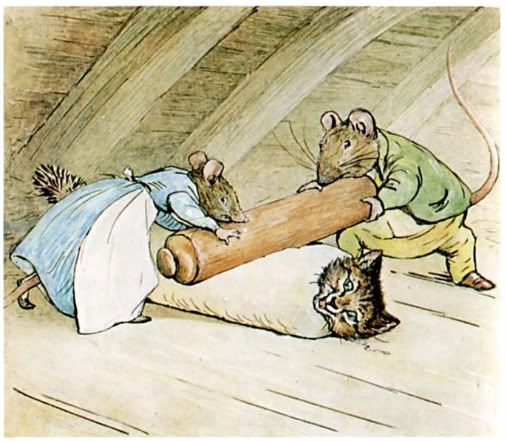 "His tail is sticking out! You did not fetch enough dough, Anna Maria."

   "I fetched as much as I could carry," replied Anna Maria.

   "I do not think" — said Samuel Whiskers, pausing to take a look at Tom Kitten — "I do not think it will be a good pudding. It smells sooty."
— Beatrix Potter, "The Roly-Poly Pudding"
(later:

"We are discovered and interrupted, Anna Maria; let us collect our property, — and other people's, — and depart at once."

   "I fear that we shall be obliged to leave this pudding."

   "But I am persuaded that the knots would have proved indigestible, whatever you may urge to the contrary.")



Saturday, April 7, 2012
Wednesday, February 15, 2012
Prolonged consumption
27 July 1774
[Six Gentlemen] dined and spent the afternoon with me at New College. I borrowed the Chequer Room of the Bursars for my company to dine in. We were very merry and pushed the bottle on briskly. I gave my Company for dinner, some green Pea Soup, a chine of Mutton, some New College Puddings, a goose, some Peas and a Codlin Tart with Cream. Madeira and Port Wine to drink after and at dinner some Strong Beer, Cyder, Ale and small Beer […] I gave my company only for supper cold mutton. After supper I gave them to drink some Arrac Punch with Jellies in it and some Port wine.
17 November 1774
…supped on roast hare, veal collops and woodcock, with port wine and punch to drink afterwards.
— Woodforde, Diary of a Country Parson (quoted in Oxford Food: An Anthology)